EuroVast SpA is a serious and reliable partner capable of dialoguing and working with modern sales structures. There is a widespread presence nationally due to the quality and professionalism of the sales force. Our main customers in Italy, Europe and in non-European countries are present in the mass retail, distribution, discount and community distribution channels.
Almost 20 years of experience in the private label sector means that the company is ready to respond and interpret every customer request, always focusing on the promotion of the end result in its product range and in the development of new solutions based on the specific needs of the client base.
Vincenzo Romano, continues the activity of his father Umberto, a businessman already working in the tissue sector since 1972, purchasing the rst two plants in Bagni di Lucca and in Borgo a Mozzano (Lu).
The necessity to expand their brand and dedicated market analysis, led EuroVast SpA to create a line of products with dedicated brand.
The second paper mill in Villa Basilica is purchased. During the same year EuroVast SpA takes its rst steps towards growth in large-scale-retail trade, moving towards the most important Italian and international supply chains.
23 December: demonstrating its belief in the industrial development project the ownership
implements a 15 million investment plan for the new plant of Toringo with state-ofthe-art production lines.
A revolutionary brand idea, Rotolotto, the rst all-purpose roll for domestic use, leads to growth in the production activity of EuroVast SpA.
A second and large investment plan relating to the paper mills is implemented, which
sees the adoption of new production systems with tangible results in terms of
quantity and innovation.
118 July: Inauguration of the Toringo plant. Completion of investment plan, start-up of new Perini lines, with four-colour print and embossing techniques which use state-ofthe-art technology.
Research and development in the product range to guarantee customers superior quality and service.
Investments continued on converting lines with the purchase of new embossing rolls and realization new decorations for towels lines and reels.
Invention of the patented product Placemat by Vincenzo Romano.
Expansion of Toringo plant. Purchase of Perini Mile 5.1, the rst one sold in Europe.
Purchase of third paper mill in Lanciole. Purchase of Converting centre in Borgo a Mozzano to convert tissue paper into napkins.
Consolidation and expansion of new logistical warehouse covering over 8000 pallet storage places at the Toringo converting plant.
Cartiera della Basilica in Lugliano: Start up of new Modulo Plus Crescent Former machine supplied by Toscotec. Advertising campaign of "Fior di Carta Lifestyle paper placemat".
Purchase of the fourth paper mill in Fabbriche di Vergemoli. Investments on the new Placemat's advertising campaign.
Expansion of production capacity with the opening of new converting plant in Liverpool (UK).
New converting plant in Oss (Holland). Expansion of Tissue Machine in the Villa Basilica paper mill.
Acquisition of the fifth paper mill, in Pracando, resulting in an increase in production capacity to 140,000 tonnes. Restructuring of the Cartiera della Basilica paper mill.
The new, innovative and sustainable line Suprema has been elected PRODUCT OF THE YEAR in the toilet paper category.
A Special Edition has been created to celebrate the ten years of Tovaglietta.
Increase in the production capacity of the production site of Oss thanks to a new converting line
Restyling Suprema line under the banner of sustainability inspired by nature and the use of 60% recycled plastic for its packages.
The new look is inspired by Nature: water, plants and the atmosphere have inspired the new packages.
Our tissue production capacity, made up of 5 paper mills, counts 150,000 tons per year, while our converting capacity is currently spread over 4 converting plants: two in Italy, one in Liverpool (UK) and a new one in OSS (Netherlands). EuroVast Spa has organized the production in a flexible way to guarantee the right balance between a quality product delivered on time according to the demand of each market.
Our experience in the production and conversion of paper (both in the consumer sector and in the AFH sector) allows us to respond in an innovative way to the needs of consumers, offering tissue products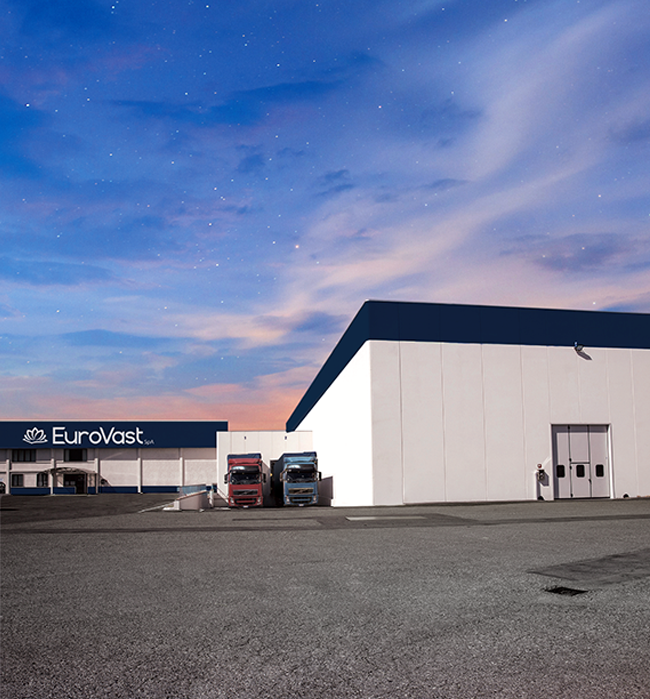 150000
Annual paper production capacity
76000
sq.m. covered by our production facilities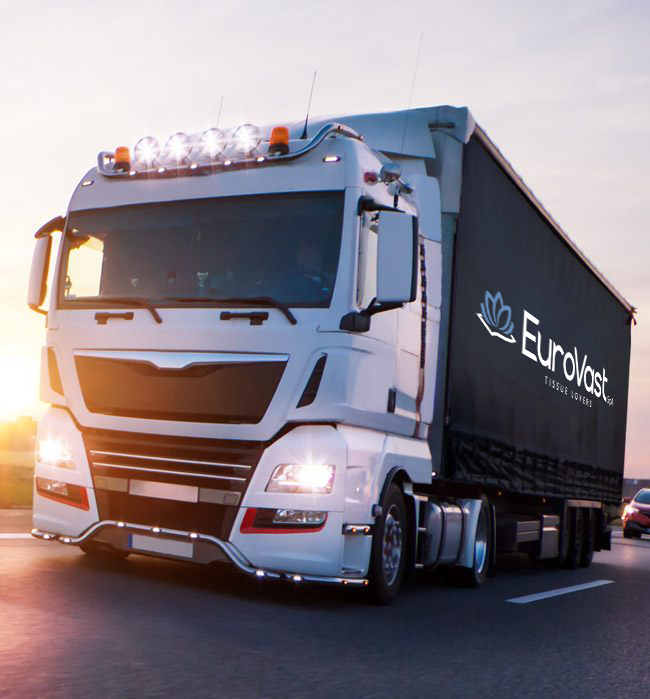 Timely delivery and efficiency of customer service
Our logistics plants are located in Italy and the United Kingdom, have mode than 35,000 pallet storage and guarantee to our customers an efficient service.
The stipulation of annual contracts with leading national and international forwarding agents allows us to provide maximum punctuality, speed and flexibility of delivery which has always set us apart from the rest.
Our Code of Ethics, in conclusion, is proposed as a model for all those involved in Euro Vast, adapting their conduct to the principles of loyalty and honesty already shared by the whole group to which EuroVast belongs.